A-1 Performance was started in 1959 by Marv Ripes, a pioneer in the drag racing industry. A constant thinker, problem solver and innovator-Marvin built A-1 Performance on the foundation of leadership and excellence. Marvin was the mastermind that put the PowerGlide transmission and the eight inch converter on the map.
Located in Southern California for 48 years, A-1 Performance made its move in 2007 to Vancouver, Washington after being purchased by Alan and Adam Bowdish. Marvin was ready to retire from the day-to-day operations of the business and Alan and Adam were poised to have their hobby of racing now exist as part of their day jobs. The Bowdish's, both seasoned entrepreneurs and racing enthusiasts make this father-son team a dynamite combination.
After making the move to Vancouver, Washington, A-1 Performance purchased new, state-of-the-art SuperFlow welding and balancing equipment and a transmission dyno in an effort to continue making superior products. In an industry that's ever changing, our goal is to provide products that maximize performance and make winning automatic.
Alan Bowdish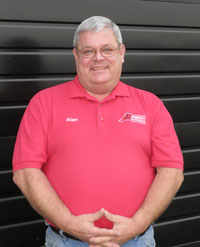 A project that needs 100%, Alan gives 110. For the past 38+ years, the title of driver or crew chief has been attached to Alan Bowdish. As the head of sales for A-1 Performance, you'll find Alan close to his desk with the headset on most days if he's not out at the track.
Alan began competition driving at the age of 18. Competing in multiple classes- super stock, stock eliminator and competition eliminator as well as working on the crew for a pro stock team. As the crew chief for A-1's competition eliminator and stock eliminator cars, Alan held the title "crew chief of the year" in 2003 when their competition eliminator car won the division six title.
With drag racing in his blood, and a life-long entrepreneur Alan began a new chapter in his life in a familiar industry when he brought A-1 onto his resume. He has the experience and knowledge to put together the winning combination that sets these guys apart.


Adam Bowdish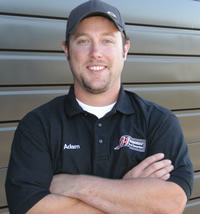 Competition, concentration and an appetite for winning are just a few ways you could describe Adam Bowdish. Throw anything his way, and Adam will give it some thoughtful consideration before charging ahead in hot pursuit of what works best.
A competition driver since 1996, Adam is experienced in super stock, stock eliminator and competition eliminator. A two-time division six winner and JEGS Allstar participant-Adam's relentless dedication to the sport is second to none. With multiple national and divisional wins, he's also set class records in competition eliminator and stock eliminator. Besides sliding into the drivers seat, Adam has crewed on teams from competition eliminator to pro stock to stock eliminator.
Adam Bowdish is a family man with a passion in real estate and racing. As A-1's shop manager, not a single converter leaves the shop without Adam's keen eye and attention to detail. Looking for a way to go faster and further then you've gone before? Adam will set you up with the right combination.
Marvin Ripes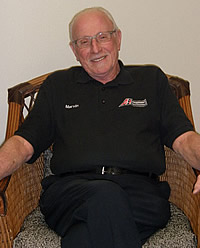 Founder, and current A-1 consultant, Marvin Ripes is a long-time competitor with some 60+ years of racing experience. As a driver, Marvin won several NHRA National championships and a multitude of regional titles, and set performance standards in a variety of classes.
Now retired from active competition, Ripes channels his considerable racing knowledge to A-1 customers all over the world. Marvin participates in ongoing research and development to assist A-1 in continually producing items that represent the best in class performance. His expertise in the fields of engine tuning, building and refinement make him a valuable asset to the racing community and to A-1 Performance.